This week I will highlight all the various sources of snowpack, water, and flood reports available via the internet so that you can stay on top of the run-off conditions this Spring. Most of these sources of information can be found on the
www.mountainweather.com
site, with a little poking around. Information specific the Jackson Hole region
will be highlighted, but links to snow, water, and flood information for the rest of the U.S. are also included.
Snowpack
There are two ways to look at the snowpack that remains in the mountains and how it compares to average. One is the Snow Water Equivalent (SWE), and the other is Total Precipitation.
(from the JH Information page go to "Snowpack Information", which takes you to this page...
Snow-Precipitation Update).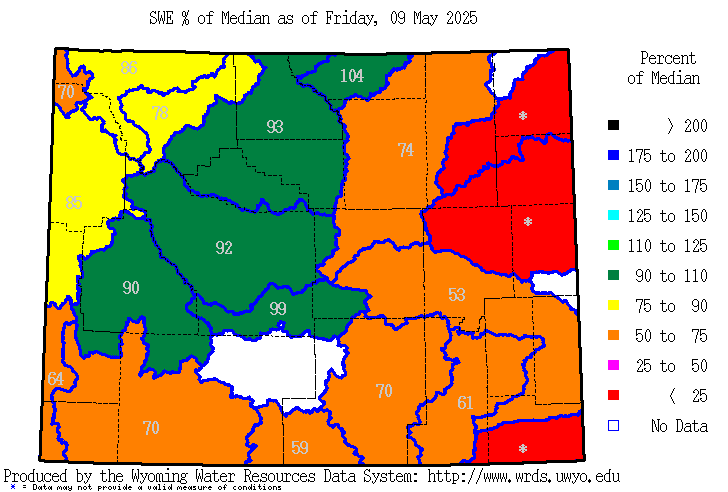 Both SWE and Total Precipitation numbers are shown for the various river drainages in Wyoming. For the rest of the Western U.S., scroll down to the bottom of the Skier's Page and click on the Western U.S. Snotel map to generate similar data or reports.

SWE shows the percent of average snow water that still exists, as of this date. Most of these numbers are extremely high, because normally by this time of year we are losing snow, or in some locations most of the snowpackdown to next to nothing or is already completely gone.

In the Snake River Drainage, SWE is at 232% of average for this time of year.

This year, the snowpack has declined very little since mid-April (when it reached its peak) at the higher elevations. Even mid-elevation snowpack is way more than what it normally is at the end of May. And it looks like we won't lose much through the Memorial Day Weekend. As a matter of fact at higher elevations we'll likely be gaining some snow!

Snowdepths at JHMR May 26: Rendezvous Bowl = 159 in. & Mid-mountain = 97 in.
Snowdepths at JHMR April 3: Rendezvous Bowl = 142 in. & Mid-mountain = 108 in.

Precipitation totals for the water year (which begins October 1st) are perhaps a better gauge of how much water we have had this winter, used, in combination with how much water is actually in the snowpack that has yet to melt.
Snowdepths in the Tetons, around Togwotee Pass and Yellowstone Park between 8000 and 9500-feet are still between 75 and 150 inches (@ 6 to 12 feet deep!).

In the Snake River Drainage, Year-to-date Total Precipitation is at 130% of average.

Water Content of that remaining snow in the surrounding mountain ranges is between 30 and 50 inches.
Water
Reservoirs and streams are already pretty full in most places across Wyoming and Idaho, with still some room left for more water from run-off in Jackson Lake and Palisades. This info can also be found on the JH Information page.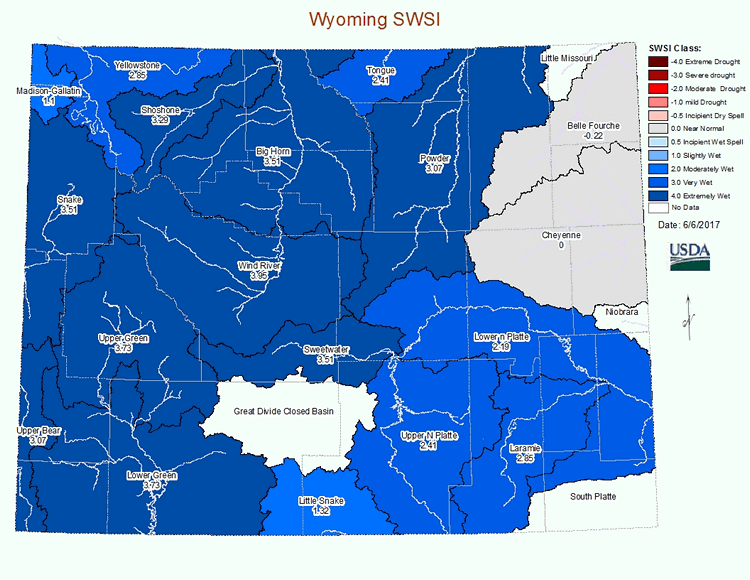 Another way to look at the stored water is the Surface Water Supply Index (SWSI), which is a combination of water in reservoirs and the forecast run-off. For Wyoming, these number are very high, which simply means we are very wet. (See SWSI Map).


Flooding
The National Weather Service's Hydrological Prediction Service keeps track of river levels and makes forecasts for flooding potential. There is also a lot of information available about river flows and flood forecasts for eastern Idaho & Wyoming on the JH Information page, or nationally from the River Forecast Center website.

Text by Meteorologist Jim Woodmencey